As industrial and energy market incumbents rebound from Covid, digital transformation has become a key pathway for companies to build resilience to risks and ensure business continuity. To that end, many enterprises have sought to simplify their technology (tech) stack from the ISA-95 (Purdue) model to a leaner tech stack in which real-time process automation can thrive. This means the impetus on having data engineering, management, and analytics-- that is, a data-oriented business model as the business driving force-- has become a top priority. As part of this permanent shift, enterprises must also seek to accelerate digital transformation of their frontline workforce and related operational processes to realize higher efficiency gains, if not implemented already. By doing so, enterprises will gain operational intelligence through the frontline workforce, meaning all events associated with the workforce can be tracked, managed, and optimized for performance improvements and productivity gains.
Based on discussion dialogues by Frost & Sullivan's industrial and energy practice with key enterprises on this topic, five key requirements for frontline workforce digitalization stand out:
The need for an integrated digital solution in which tasks can be digitally allotted and workflows can be scheduled in tandem with ongoing plant operations in real time.

The need for a seamless digital user interface in which workflows can be easily assigned and monitored.

The need to respond to plant requirements with simple, rapid application generation capabilities.

The need for safe, digital connectivity-driven applications that are compatible with desktop, cloud, and hand-held device operating systems.

The need for easy access to multiple data sources and processes that can be driven bi-directionally between the frontline workforce and operations.
Having a digital solution meeting these requirements ensures the continuous optimization of frontline tasks and processes, while accelerating digital maturity of the enterprise at the workforce level. While there are several digital solutions that cater to digital transformation of the frontline workforce, most fall short of meeting all five requirements. While solution providers are cognizant of these needs, most align their solution toward providing siloed connectivity and workflow scheduling, failing to capture the links to cross-functional business processes. For example, Enterprise Asset Management (EAM) platforms emphasize more on operations and asset performance management, while failing to address the broader mobile needs of the workforce. For enterprises, this means losing out on the value of connecting business processes and assets to the frontline workforce.
Mindful of value that is essential for enterprises to shift toward a digitally-driven workforce, Webalo enables industrial companies to digitally empower their workforce, and digitally manage their processes. Webalo allows enterprises to respond to events more effectively and to capture the critical information that will further empower operational teams to utilize asset and operations data, together with workforce data, to maximize the impact of the workforce and drive operational efficiency. Designed to empower the frontline workforce, Webalo shines in managing plant events, digitizing workflows, integrating plant operations and assets with the activity of frontline workers, while enabling co-creation of new task-specific applications without any programming involved.
Webalo achieves this by leveraging an agile platform design (see Exhibit 1), where an input stream of data is fed to their Workforce Intelligence Center (an integrated AI/ML driven application) that is embedded with the capacity to optimize processes in real-time and provide customized visualizations. With Webalo, users--be it managers, supervisors, or the broader plant workforce-- are always aware of their operating scenarios while managing tasks and actions to ensure reliable plant performance.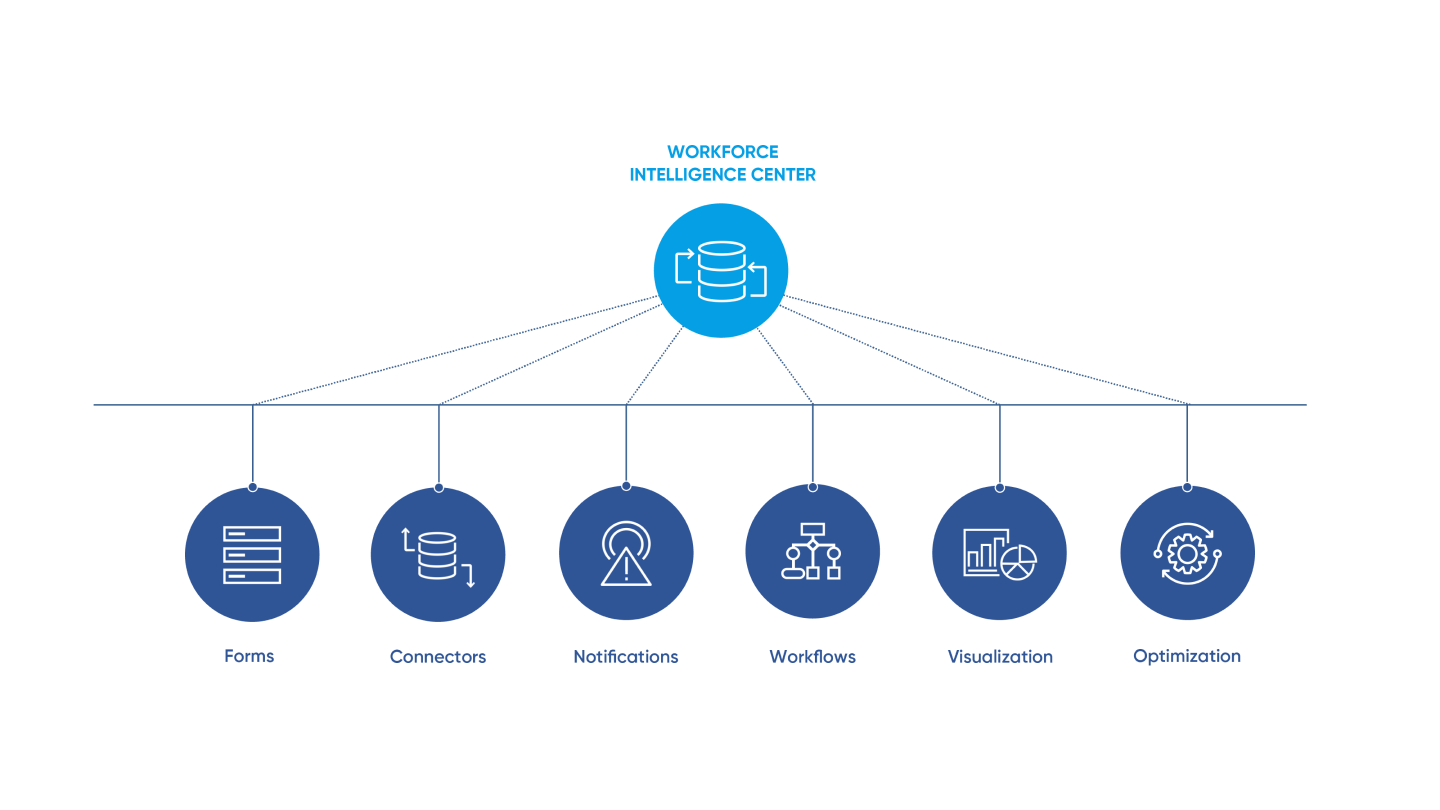 Why Webalo is Different

What differentiates Webalo from other solution providers is that it leverages existing investments in operational processes, and core systems, to enable plants to achieve plans and reach capacity by:
ensuring real-time plant wide awareness, and management, of all plant events, planned or unplanned


directing the right resources to respond to those events

ensuring that the workforce is effectively trained, and digitally equipped with all the content and cross-functional enterprise and industrial systems access they need to respond to the event

providing the plant with visual insight into its workforce operations for real-time response, and

feeding the business aggregated line, plant, regional and corporate business process performance data for future planning and optimization initiatives.
The Platform
Webalo's patented core technology, messaging, workflow management, workforce orchestration, bi-directional enterprise and industrial data connectivity, and operational visualization and optimization technologies makes the Platform unique in its ability to deliver these transformational business capabilities.
With Webalo, several input streams can be combined at the time of deployment and operation. This means that there are several pathways with which workers can feed data, operate, and receive insights from the Platform. This includes:
Checklists and Forms- Digital checklists, forms, and standard operating procedures, enabling efficient workflow processes for the frontline workforce. Examples include maintenance work orders, quality inspections, regulatory inspections, and equipment inspections.
Multi-Dimensional Workflows- Digital automation of processes and workflows, enabling frontline workers, teams, shifts, departments, plants and/or field operations, together with associated systems and infrastructure, to interoperate seamlessly across the enterprise.
Enterprise and Industrial Data Connectors- Leading enterprise and industrial software solutions from global vendors such as IBM, Oracle, Microsoft, SAP, Salesforce, AVEVA, GE, OSIsoft, Rockwell Automation, and Siemens.
Actionable Dashboards, KPI's, and Reports- Post-harmonization of collected data. Webalo's Data Visualizer provides actionable visualization dashboards to monitor key performance indicators (KPI's) and develop reports. Example use cases include asset management, equipment performance tracking, production schedules, and facility/plant/production line status.
Having these options allow users to feed input data via multiple pathways and configure the platform based on their needs. Moreover, being mobile native, the platform comes pre-integrated with all device services with features to update automatically, be it new devices, browsers, or new operating systems. When it comes to deployment, Webalo supports both on premise (enterprise) and cloud (industrial) scenarios.
Below are a few practical use case examples from Webalo customers: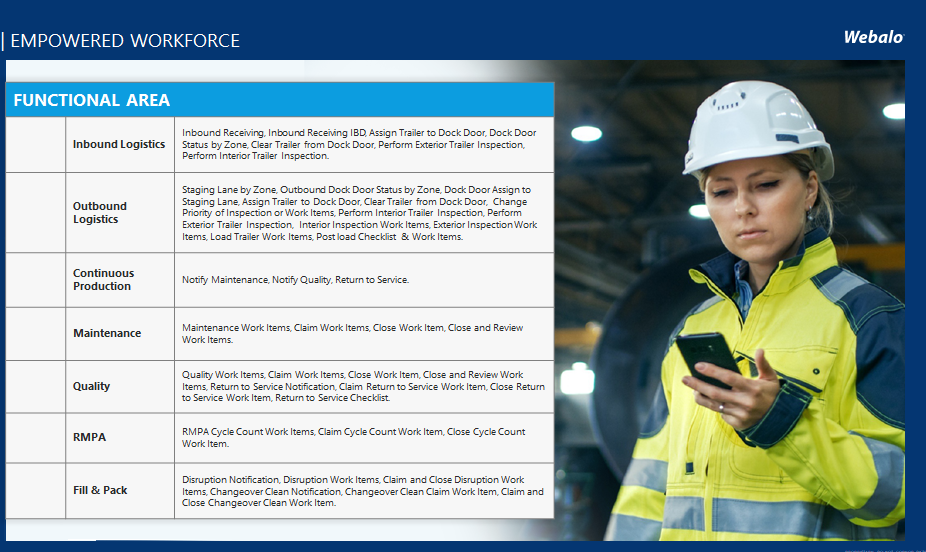 Webalo's takeaway is that it delivers key business value, with sustainable results, to organizations for faster decision making, improved asset utilization, and best practices proliferation. It provides the users with a simple, modern interface that is responsive and action-driven. And, from a technical perspective, its Platform provides the tools and services necessary for enterprise-wide deployment, scaled to the needs of the users, for lower risk and higher satisfaction.