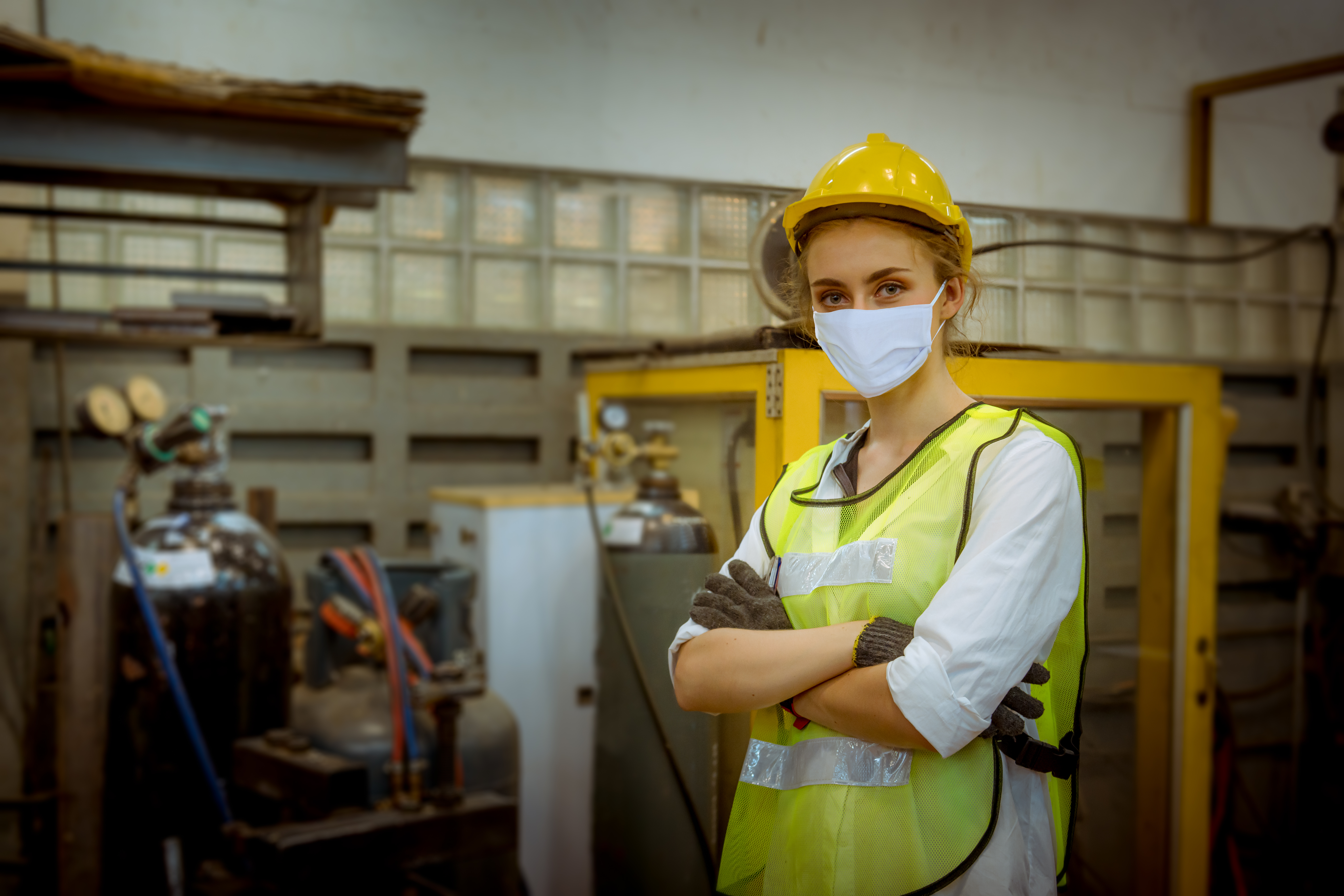 More than 6 months into the COVID-19 pandemic, manufacturing plants that previously closed due to COVID-19 are cautiously beginning to reopen and companies are tasked with the responsibility of developing new techniques to keep their frontline workers safe and their operations productive. As industrial companies grapple with exploring the new limitations on operations imposed by the impacts of COVID-19, it is important to remain focused on strategizing ways in which your organization can remain operational and competitive amid these uncertain times. While it may feel overwhelming to develop these plans, there are simple ways you can ensure the safety of your frontline workforce all while maintaining your bottom-line objectives.
Safety First
Frontline workers are the backbone of any organization. They sacrifice their safety to keep products in the hands of consumers all over the world, and protecting them as they return to work is of the utmost importance. While strictly observing social distancing and safety guidelines is critical in mitigating the threat of COVID-19 in plant environments, it must be enforced in tandem with other risk-reducing protocols in order to keep your frontline workers safe. Day-to-day processes in industrial environments are largely manual, requiring constant person-to-person interaction, as well as the hazardous transferring of materials such as paper-based work orders, standard operating procedures, checklists, and more. By digitizing these processes, you are able to not only reduce the amount of dangerous, potentially virus-carrying person-to-person interactions in the plant by drastically eliminating amount of paper having to be handed between personnel, shifts, and departments, but you can also digitize workforce interactions such as shift changeovers and reporting. Here at Webalo, our Connected Digital Distancing™ technology is helping companies achieve their digitization goals and adapt to these new ways of working by eliminating paper, reducing workforce movements and interactions, safely managing plant access, and enabling persona-based remote working. Check out our use cases page for more information here.
Ditch the Paper
Not only do paper-based processes slow down the efficiency of industrial plants through increasing the amount of time it takes to hand out, fill out, and manually capture data onto paper forms, but paper in the plant can also function as a toxic material, posing a risk to your frontline workforce, therefore increasing the probability of a potential shutdown of your plant. The CDC reports, "it may be possible that a person can get COVID-19 by touching a surface or object that has the virus on it and then touching their own mouth, nose, or possibly their eyes," so it is critical that industrial manufacturers expedite digitization efforts and remove paper from their plants. In industrial manufacturing settings, it is quite often the case that procedures are still manually completed, with paper being the main carrier of information within the plant. While it may seem impossible to digitize processes that have been manual for so long, software platforms, like Webalo, that focus 100% on the industrial workforce have already done the heavy lifting in terms of digitizing plant operations. Webalo's patented no-code technology comes equipped with simple, point-and-click form-generation technology, the ability to configure complex multi-dimensional workflows, real-time task management, an alerts and notifications environment, actionable reports, dashboards, and KPIs, and a broad range of enterprise and industrial system data connectors so your workforce is able to have full operational visibility into everything going on within the plant.
Keep Production Producing
In chaotic times, the workforce needs to be kept focused and organized by standardizing processes and activities, as well as enhancing interactive visibility into plant operations. Industrial companies require complex, high-cost hardware and software systems, and accessing, viewing and interacting with information from these multiple systems is very challenging. The good news is that today there are simple, low-cost easy to implement software solutions that enable real-time generation and interaction with key metrics, as well as the ability to act, write back, and update these disparate data systems in real-time. These actionable persona-based dashboards save you time, eliminating the need to manually cross-check and input data, and keep your workforce safe, reducing unnecessary workforce interactions and interruptions through integrating digitized forms with back-end data sources, allowing for accurate, reliable, contactless delivery of information.
Close the Blind Spots by Going Digital
Here at Webalo, we're 100% focused on the industrial workforce, and architected to digitize your workforce in the context of the investments you've already made across your business operations. We leverage these investments into a "single-pane-of-glass" for the workforce, providing your workforce with a safe work environment through clear work instructions on their devices, and giving management peace of mind that day-to-day activities and processes are being completed safely, and the plant is staying productive.
To learn more about the various ways Webalo could impact your plant operations, schedule a free demo of the platform here. You can also sign up to deploy forms, checklist and SOPs with our free edition, Webalo StartNow!