With so much focus on the #Frontline Worker, we wanted to see how manufacturers are currently managing their workforce's needs for task management and worker enablement. Here are the results of our study, along with some commentary.
Takeaways from the survey
Respondents, whether they were in process or discrete, all have the same challenges: maintaining productivity, efficiency and responsiveness while dealing with multiple applications (more than 50% have 3 or more to access), supporting corporate initiatives such as Continuous Improvement or something more intangible such as Industry 4.0/Digital Transformation.
As other industry studies show, these workers are relying on their mobile device (nearly 70%) for both guidance and task management.
A single method of interaction is desired--say 80% of respondents--and this is where Webalo can help. Webalo is one app on your device, a "single-pane-of-glass" view of all of your tasks and activities on your device - one app that manages all of the other enterprise and industrial data sources your workforce have to interact with. Webalo increases operational efficiency in every plant by several points, simply by the time it saves each individual worker from having to log-in and wade through the multiple other systems they currently have to use to do their job.
Question 1: What department do you work?
Respondents were split between IT (52%) and Management (40%).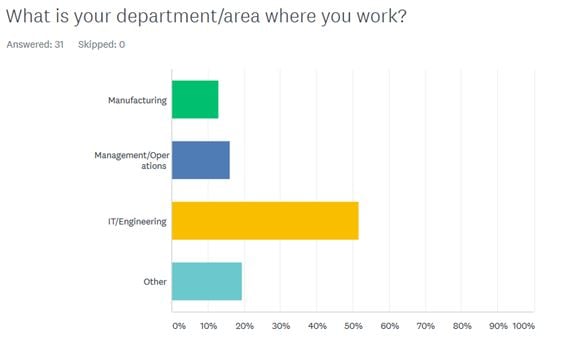 This result is reflective of the customers we work with; normally, operations/manufacturing makes the decisions with IT and engineering support.
Question 2: What industry are you in?
52% of the respondents were from 'heavy process' (think mining, energy, oil and gas) and 48% from hybrid/discrete (food & beverage).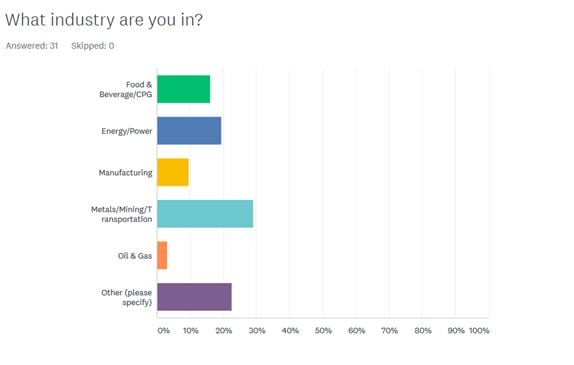 Question 3: Other than for voice, email, and messaging do you use a mobile device in doing your job?
Not surprisingly, 71% of respondents use mobile devices on a daily basis in their job.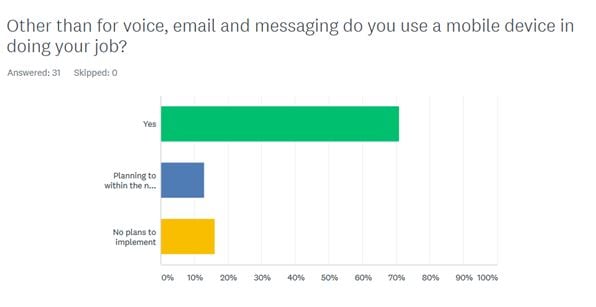 The adoption of mobile within manufacturing has been rapid. Only two years ago, 60% of employees were using mobile devices within their job. The productivity boost and immediacy of mobile technology makes it ideal for employee interaction.
Question 4: What do you use your mobile device for?
Over 92% of respondents are using their mobile device to do work-related tasks: checklists, data entry (either manual or via barcoding), on-call notifications and dashboards. Interestingly, checklists and data entry are responsible for more than 50% of the mobile usage.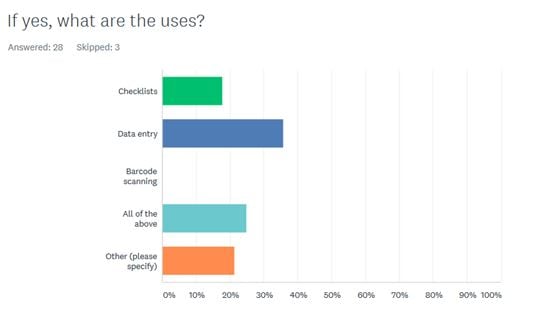 This answer fits again what we are seeing from customers and prospects: the need to standardize the way their workforce engages in tasks, making sure they are clear, distributed to the right workers, and then completed in a timely manner.
Question 5: Does your company have a Continuous Improvement, Digital Transformation or Industry 4.0 initiative?
We allowed multiple choices here, so we see that 77% of respondents have some CI/DT initiative in place. Continuous improvement counts for more than 50% of all initiatives while Industry 4.0 and Digital Transformation account for another 50% of all responses.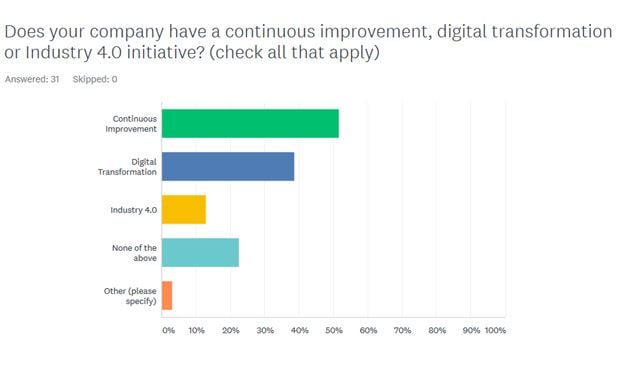 Question 6: If yes to Question 5 (above), how much time per day do you spend on these activities?
Not surprisingly, employee time is closely split on the amount of time spent on CI/DX activities at 54% (less than one hour a day) and 45% (more than one hour/day).
31% of respondents spend one to three hours (or almost a third of their day dedicated to CI/DX activities).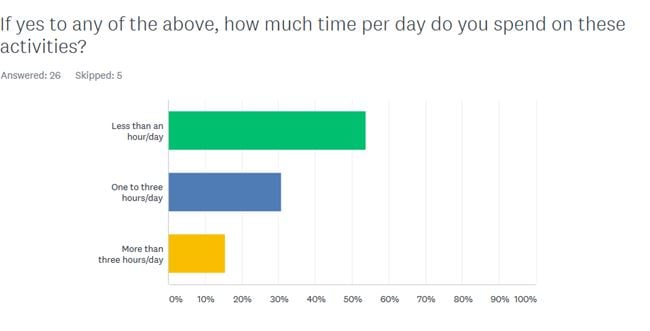 With employees dedicating 30% or more to critical activities such as CI, it makes sense that they would turn to automating their tasks and enabling with mobile. This has always been Webalo's focus, providing that unified productivity platform for the frontline workers--and their management.
Question 7 has to do with legacy software applications. How many enterprise or industrial applications do you need to access with on a daily basis in order to do your job?
50% of respondents access more than 3 applications a day to get their job done.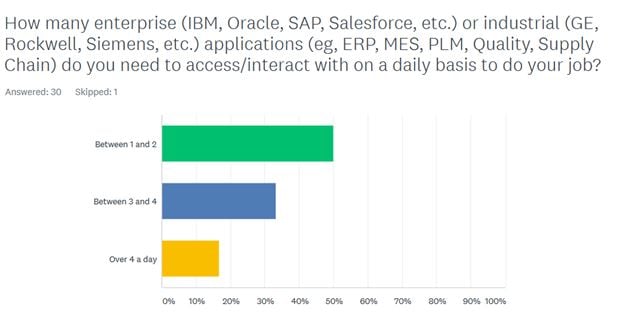 It is not unusual that most workers are dealing with more than 3 applications a day in order to do their job. If you take a typical 'day in the life' of a frontline worker, they may need to access the ERP (like SAP) to get their new schedules, work orders or work instructions; MES to get the bills of material, specific operator instructions for the lot, and an EAM (asset management) for the scheduled maintenance instructions. Many of these applications may not integrate with one another, so task acknowledgement and completions may all be done with paper--increasing inefficiencies, waste and time.
Question 8: Would it be helpful for you to be able to interact with all of these enterprise and industrial applications through one interface on your preferred device?
84% of respondents say they would prefer a single method of interacting with these multiple apps on their device.
And since 70% use mobile, we can say these apps would be most effectively delivered on mobile.