Value chain-wide resilience, operational agility and hyper-connected, intelligent IT infrastructure are prevalent organizational trends during this mid-pandemic period. They also contributed to the initial disruptions which brought the global supply chain structure to a grinding halt in early 2020. From a strategic standpoint, it has become more evident that there is a race among participants in all global industries to digitalize their entire operations and in some way, shape or incorporate technologies which constitute the Industry 4.0 paradigm.
Industry 4.0 forums and discussions pivot around the need to have a data-driven operation, which as a foundation requires a strongly integrated IT infrastructure. It's closely followed by enabling technologies which aid and supplement this integration through connectivity and intelligence; IIoT brings connectivity and big data analytics/AI bring intelligence.
Beyond this foundational IT integration across the board, there is an entire array of technologies which contribute to the 'ideal' Industry 4.0 ecosystem. These technologies include AR, VR, cloud, blockchain, 3-D printing and automation/robotics.
Industry 4.0-level operations drives companies to move towards a more efficient, more intelligent business process, which self-actuates and leads to faster product development, better quality products and services. The outcome is higher market share and stronger growth. The pandemic has expedited this race towards digitalization and rapid adoption of technology. Disruptions have forced businesses globally to adapt or be eliminated. With continued disruptions due to COVID, companies have little choice but to embrace digital tools in order to ensure both uninterrupted operations and the safety of the workforce, management and customers at large.
The Workforce is part of an Industry 4.0 transformation
More often than not, a very important aspect which is left out of the Industry 4.0 discussion is the workforce, and specifically the frontline workforce. In order to truly leverage the hyper-connectivity and intelligence Industry 4.0 provides, it is essential that the frontline workforce is included in any digital transformation initiative. The frontline workforce carries out the essential activities in an industrial enterprise. Including these workers readies them to embrace the changes, with the support of technology and applications which align their performance with the broader technology pieces being put into place.
In the context of Industry 4.0, which finds its basis in optimization through data-driven operations and planning, the modern worker needs to graduate from a functional and execution-driven role to that of a decision maker, and as a major contribution to the new digital façade of the operation. Organizations can't gain headway in their digitalization efforts unless their frontline workforce is transformed to adopt and then adapt to the new technologies and increased intelligence delivered through integrated IT applications.
Workers in the new industrial revolution are more important than ever. Industry 4.0 demands an empowered workforce, where information related to frontline action is relayed digitally. Decisions are taken by frontline workers based on analyzed and intelligent information, SOPs and work instructions.
In this modern scenario, instructions are relayed directly to their mobile devices, untethering them from a workstation and enabling a seamless work experience. Extended technologies such as AI allow them to learn of an issue and resolve it on the go. Training, orientation and expertise can be delivered without physical proximity and operations execution is not only a planned activity, it is calibrated to perfection-- controlled and delivered in a traceable and well-documented manner. The workforce, which is truly empowered, connected and intelligent, can be labelled as the Digital Connected Workforce—the next generation in workforce enablement.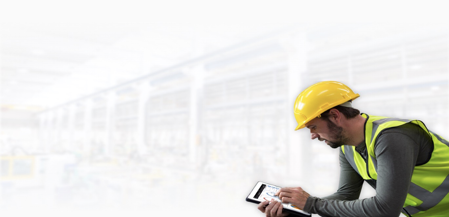 Frontline workers are the focus of the Digital Connected Workforce. They are the essential team members at the forefront of process execution, maintenance and other functional areas which require their presence on the shop floor. Their roles include quality, logistics, warehouse/material management, EHS (safety) and facilities management. The pandemic bore testament to the need of having frontline personnel available to operate plant equipment and keep essential goods flowing in the global supply chain. It is only through rapid adoption of digital technology and applications that manufacturers around the world are able to enable their frontline workers performance and safety.
Sustaining performance in a hybrid world
A hybrid world—where you have a mix of onsite and offsite workforce—requires stringent adherence to established good manufacturing practices. It also requires the business to be more transparent: understanding the performance of operations to address improvements, corrective actions, and process tuning necessary to drive output and maintain quality.
Transparency extends to the frontline workforce—understanding how they do their jobs, what the results of their activities are, and smoothly integrating that data back into the business through analytics and KPI's.
LNS Research suggests that companies can add more value to their business operations by connecting and informing their workers, leading to improvements in productivity and safety. They refer to the 'Connected Worker' as the digitalized workforce, where technologies such as mobility and workflow enable collaboration, efficiency and future-proofing operations.
While the idea of automating workflows to allow frontline personnel and line supervisors the ability to execute and oversee the entire process through mobile devices, without the need for physical proximity to the actual manufacturing activity, seems futuristic, the foundation for a new breed of workforce--Workforce 4.0, as defined by Lux Research, does exist.
Webalo is a platform which meets the requirements for creating the frontline workforce of the future, today! Digitization of process workflows, bearing in mind each and every activity in which the frontline worker partakes, is easier said than done. It is not just the capture and documentation of the workflows—it is the ability to add logic, enforcement, and real-time views. The Connected Workforce—or Worker 4.0—leverages new technologies to improve performance, gain visibility, and encourage innovation. It cuts beyond the existing silos of applications to establish a collaborative, transparent view into the activities on the shop floor.
So when should you consider an upgrade to Worker 4.0? The first thing is to choose the right partner; that with industry-specific experience and expertise, and with a platform to address all aspects necessary to build a resilient digital workforce solution.